Fundraising Updates
We look forward to opening in late 2019! Makino Foundation recently announced a $500,000 donation that secured the funding needed to award construction bids to build Common Ground.
Other efforts include a $400,000 capital grant awarded by state of Ohio thanks to the efforts of state Senator Steve Wilson and state Representative Paul Zeltwanger. We continue to receive numerous business and individual donations including Mitsibushi, Comey & Shepard realtors The Quigley Team and Kings Mazda. Other successful fundraising events include the Comets for Common Ground wheelchair basketball game, the Party for a Purpose and Mason Monarchs March Madness.
There are still many opportunities to volunteer, donate and support our efforts. Contact us today!
Donor Wall Butterflies Now Available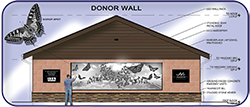 Donations for the donor wall recognition are only available for a limited time. Don't miss out on this unique opportunity to be a lasting part of Common Ground at Makino Park! Click here to learn more.